The Enchanted Forest 2021
The Junior League of Northern Virginia is excited to announce that our winter fundraiser, The Enchanted Forest, is back for its 21st year. It will take place on Saturday, November 6, 2021.
This year, TEF will feature a combination of in-person and virtual events, including StoryTime with Santa, personalize Zoom calls with Santa, exercises classes, cooking demonstrations, an online silent auction, an elegant gala and so much more.
The Enchanted Forest "Winter Wonderland" Gala on November 6th from 7-11PM
The TEF Gala will be held at the International Country Club on November 6 from 7-11 pm and will feature a silent auction, open bar, dinner, a live D.J., and dancing. Tickets are on sale now. You can purchase your tickets here.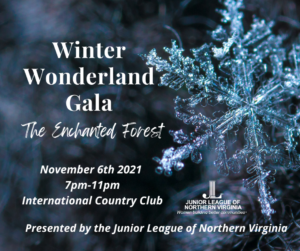 Friends of the Forest packages can also be purchased here.
Virtual Holiday Mixology Class on November 12th at 7 PM
Join the Junior League of Northern Virginia for a Mixology class featuring a variety of drinks guaranteed to make your holiday season extra merry. A zoom link and list of needed ingredients will be emailed to you the week of Nov. 7. Tickets can be purchased here. 
Barre Class with JLNV and Studio Barre Alexandria November 13th at 1 2PM Join the JLNV for 60-minute, calorie-torching, music bumping, personalized barre workout for all fitness levels. This will be an in-person class. Space is limited (16 openings).  (All federal, state, local COVID requirements will be followed). Location: Studio Barre Alexandria 610 N Fayette St., Alexandria, VA 22314. Tickets are $30 and can be purchased here.
Family Yoga Class on November 14th at 1 PM
Holiday season got you stressed out? Come de-stress with JLNV on Nov. 14th  during a virtual yoga class. This event is ideal for the whole family! Tickets can be purchased here.
Holiday Tips from Seasons 52 Executive Chef on November 21st at 5 PM Please join Seasons 52 Executive Chef for some tips and tricks on how to improve some of your favorite holiday dishes. You will be sure to impress your family and friends with your new skills this holiday season. Don't forget to submit a question of your own when you buy your ticket! Your Zoom link will be sent to you the week of Nov. 15. Tickets can be purchased here. 
Storytime & Zoom calls with Santa on December 4th
Enjoy a safe, socially distant visit from Santa through a live storytime event or enjoy some one-on-one time with Santa and tell him exactly what you would like for Christmas this year. Price includes a 5-minute call with Santa. Tickets can be purchased here.