JLNV'S 65TH ANNIVERSARY CELEBRATION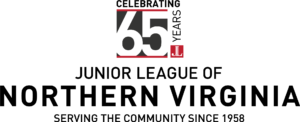 Join us as we celebrate 65 years of serving our community and developing the potential of women.
65
TH
 ANNIVERSARY CELEBRATION OF SERVICE 
Season of the Sapphire…65 years of celebration
Join us as we celebrate our legacy of service, leadership and community impact with remarks from our Woman of Vision the Honorable Jane L. Campbell, President and CEO of the U.S. Capitol Historical Society.
MAY 6, 2023
Westwood Country Club
800 Maple Street East
Vienna, Va.
More information coming soon.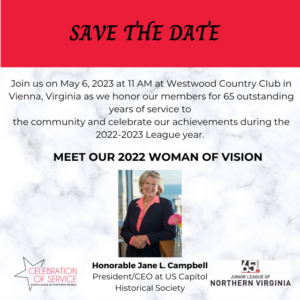 Sapphires in Service: A tribute to the strength, power and service of JLNV
In honor of the Junior League of Northern Virginia's anniversary, the JLNV is launching an anniversary giving campaign with a goal to raise $16,500 by May 6, 2023 – the date of our 65th Anniversary Celebration of Service. This is your opportunity to participate in an exciting campaign celebrating seven decades of service and embracing a new focus area – Women Helping Women.
Learn more here.
More information about Celebration of Service available here. 
We are planning a variety of events, culminating with a Celebration of Service on May 6, 2023. Join us as we celebrate 65 years of building better communities. If you'd like to share a memory or idea with the planning team, or want to help plan the celebration, contact  sixtyfifthanniversary@jlnv.org.