Grateful for JLNV's Efforts to End Hunger and Homelessness through the Years
Grateful for JLNV's Efforts to End Hunger and Homelessness through the Years
The holiday season will be here before we know it, and even though it will likely look different this year, we hope it finds you safely housed with plenty of food on the table. This is not the case for everyone, unfortunately. National Hunger and Homelessness Awareness Week takes place Nov. 15-22 — the week prior to Thanksgiving — to educate the public and draw attention to the problem of poverty, which affects 43.1 million across the United States
Throughout our 60+-year tenure, the Junior League of Northern Virginia (JLNV) has been active in combating issues surrounding hunger and homelessness, focusing on helping children in our community.
In the 1990s, JLNV voted to shift our focus from affordable housing to adopt a multi-year focus on nurturing homeless children in Northern Virginia, with an emphasis on affordable housing. We formed a partnership with Shelter House, Inc. — a nonprofit organization serving homeless families and victims of domestic violence in Fairfax County — to develop and construct a Family Resource Center in 1996. We provided more than $500,000, as well as thousands of volunteer hours during the five-year signature project.
The partnership did not stop there. "They equipped and outfitted three of our major resource rooms in the Katherine K. Hanley Family Shelter," Joe Meyer, executive director and CEO of Shelter House, shared as part of our 60th anniversary tribute. "We absolutely could not have done it without them."
After making a significant impact on the homeless community of Northern Virginia, the League shifted its focus in the 2000s to prepare children in Northern Virginia for success through programs and services that assist children with School Readiness and Education and Enrichment. As part of AJLI's Issue-Based Community Impact process, the JLNV again revisited its focus area in 2014, where we shifted toward preparing children for success by combating childhood obesity.
As part of that shift, JLNV created new committees focused on physical activity and food access, in addition to our successful Kids in the Kitchen efforts. Activities to help combat hunger have included gleaning at community farms and providing weekend meal packs for children in need, while also providing nutritional education through other community efforts.
As noted in our September newsletter, the challenges COVID-19 has presented across the community have resulted in an increased need for food access in recent months. Since the 2020-21 League year began, the Food Access Committee has been able to work with five different community partners to organize volunteer projects to provide better access to food for residents of Northern Virginia. JLNV volunteers have made an impact through:
117 hours gleaning at The Fairfax City Farmers Market and JK Community Farm, rendering 3,833 pounds of fresh foods for local food banks;
37 hours collecting food at AFAC food drives held at Giant Virginia Square and BJs Wholesale Club in Falls Church, which provided 3,129 pounds of shelf-stable food to stock pantry shelves; and
36 hours preparing and distributing food to children and families through our partnerships with Communities in Schools and the Children's Science Center, which have provided 120 food bags and 139 P3 Power Packs to help children make it through the weekend to bridge the gap between weekday food distribution at local schools.
JLNV has impacted lives all over Northern Virginia by helping to relieve potential food insecurity during COVID-19, a time when even more people are in need than would normally be expected. This allows families to have one less thing to worry about during a time when many are forced to make tough decisions.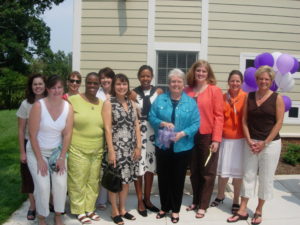 JLNV members pose with Kate Hanley (blue jacket, front center) at the ribbon-cutting for Katherine K. Hanley Family Shelter in August 2007.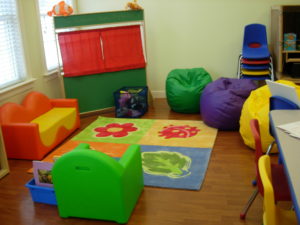 A look inside the Katherine K. Hanley Family Shelter at the children's room – one of three rooms the JLNV outfitted as part of a signature project.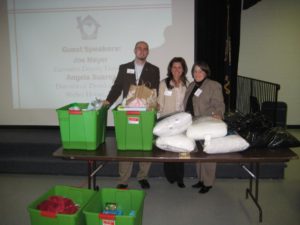 Shelter House Executive Director & CEO Joe Meyer and then Deputy Executive Director Angela Suarez attending a 2011 General Membership Meeting to receive donations.
Thank you to everyone who has come out to volunteer at our community events thus far. We look forward to continuing to make an impact on the Northern Virginia community and helping children throughout our region.