Individual Giving Societies
Since 1958, the Junior League of Northern Virginia (JLNV) has been a driving force in our community by promoting voluntarism, developing the potential of women, and improving communities through the effective action and leadership of training volunteers. Our continued impact in the community would not be possible without the generosity of donors like you.
Please consider becoming a member of one of the Junior League of Northern Virginia's Individual Giving Societies. Membership in JLNV's Individual Giving Societies is offered on an annual basis to all donors whose donation meets one of the tiered levels specified below.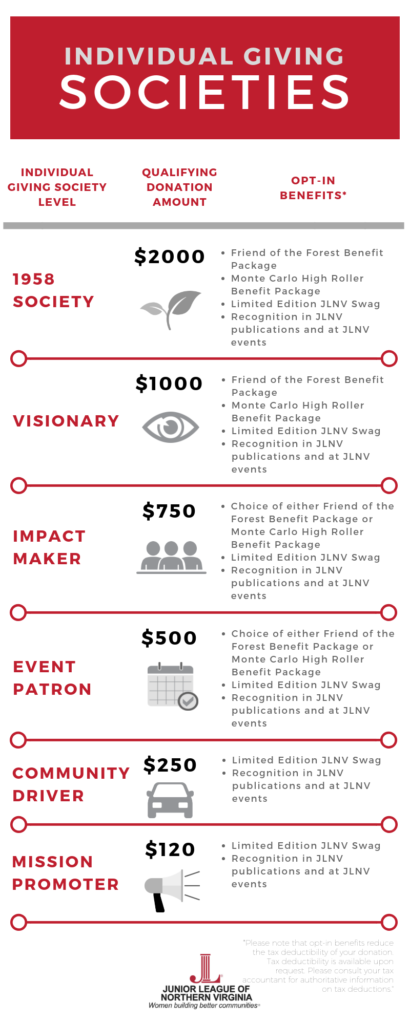 *Individual Giving Society donors have the option to decline the member benefits associated with their chosen giving level in order to increase the impact (and tax deductibility) of their donation. Donations are 100% tax deductible when the donor opts to decline the giving level member benefits.
To learn more about JLNV Individual Giving Societies, please contact our Donor Cultivation Chair at donorcultivation@jlnv.org.
Donate now and become a JLNV Giving Society member!
To make a donation via check, please make the check out to "JLNV," list "Individual Giving Society" in the memo, and mail it to the following address along with a completed copy of this form:
Junior League of Northern Virginia
8300 Greensboro Drive, Ste. L1, Box 637
McLean, VA 22102
You will receive a tax receipt within two or three weeks. Please consult your tax accountant for authoritative information on tax deductions.
Thank you to our donors:
1958 Society
Meg Keiley-Listermann
Carole E. Sanders and John D. Sanders*
Visionary
Jennifer Bell*
Deborah C. Brittain
Beatriz Duque Long*
Tanya LaForce*
Margaret Love
Erica McCants*
The Segersten Family*
Event Patron
Eula Bond*
Mrs. Monica Coakley Buroker
Anne Chow
Tina Davis
Courtney Gleason and Shannon Dinkelman
Crystal Lander
Shashuana Littlejohn and Robin Robinson
Robin and Mike Nicholas
Brianne and Robert Powers
Katherine Werther
Jennifer L. Williston
Emily Wyant and Meredith King
Community Driver
Jenny Lee
Mission Promoter
Tara Paige Bradburn
Christina Guilarte
Emily Oehler
Katharine Powell
*60 for 60 campaign donor