The Enchanted Forest – The Forest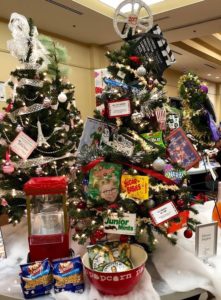 The Enchanted Forest features over eighty lavishly decorated themed trees and wreaths available for silent auction! Trees and wreaths are donated by both Junior League of Northern Virginia (JLNV) members and local merchants. There are trees themed for everyone – kids, sports fans, wine enthusiasts, you name it! Trees make great holiday gifts and are perfect for home and office décor.
The list of tree themes is constantly growing, but here are some of our favorite trees for this year's event!
Washington Capitals
Happy Hockey-days with this Washington Capitals tree! To celebrate the 2018 Capitals Stanley Cup Champs, gear up in your Capitals swag and attend a game. Deck your halls with Capitals ornaments and holiday decorations and Rock the Red!
Rare Whiskeys
Enjoy a dram of scotch after work? Then you'll love this tree of hard-to-find scotches and whiskies direct from Scotland!
Tree-Rex: A Dinosaur Holiday
Welcome to Jurassic World! This roar-some assortment of dinosaur ornaments and realistic dinosaur toys will be a hit for both kids and adults. Don't miss out on this fantastic tree-rex holiday tree!
Questions? Please contact tef@jlnv.org.