Together for the Holidays 2022
Kick off the season with style and excitement!
Virtual Holiday Cocktail Class   Nov. 11, 7 p.m.
Want a signature cocktail for your holiday party? Learn how at a mixology class
featuring a variety of drinks guaranteed to make your holiday season extra merry.
Tickets are $25. Ticket sales have closed.
Vintage-Inspired Ribbon Tree Class at Urban Redeux  Dec. 5, 7 p.m.
Step back in time at Urban Redeux, Alexandria's most unique vintage and antique shop! Sip on wine and enjoy holiday bites while the shop owner, Willow, leads a vintage-inspired ribbon tree crafting class!  Create and customize two trees to take home with you. The shop will be open throughout the event to pick up gifts for any of your hard-to-shop for friends and family + yourself! Tickets are $50. Urban Redeux, 7916 Fort Hunt Road, Alexandria, Va.  Ticket sales have closed.
Mason Jar Hostess Gift Class Dec. 8, 7 p.m.
With so many events going on in the coming month, make sure you never show up empty handed.  Join the JLNV for a Mason Jar-crafting class where we will make hostess gifts perfect for this time of year. Who doesn't want a Hot Cocoa Kit or Spa Gift to use as a stocking stuffer or for your next party?  Not only will you leave with two completed hostess gifts to prepare yourself for the season ahead, but you'll also be armed with the know-how to create as many gifts as you have hostesses to impress! Tickets are $25. Location: 7581 Colshire Dr., McLean, Va. Ticket sales have closed.
Shopping Day at Mosaic District Dec. 11, 11 a.m. – 4 p.m.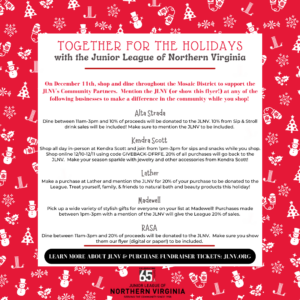 Make sure to mention the JLNV at all these spots on Sunday, Dec. 11 to ensure we're maximizing our donations from these generous businesses. 
Cookies & Cocktails Social with a Purpose Dec. 11, 4-7 p.m.
After getting some holiday shopping in, celebrate the season with a League-wide Holiday Gathering in the Mosaic District!  Enjoy a sweet and spirited afternoon with old friends and new faces as we raise funds to support our community partners.  Grab a few tickets and bring all your friends! Bring an item, or a few, to support our Winter Clothing Drive, supporting Women Giving Back (Sterling, Va.) Location: Moderna Mosaic, 2920 District Ave, Fairfax, Va.
General Admission         $25
Fa-la-la-la Friend             $50    Give a little extra this season.
Snowflake Sponsor         $75  
Community Champion  $100   Make the largest impact.
Ticket sales have closed.
Thank you for your support!