What Can I Bring? Cookbook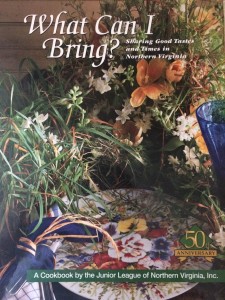 What Can I Bring? debuted in 1999 as the JLNV's signature cookbook. The cookbook went into its fourth printing in 2006, ensuring a steady flow of income (and recipes) to the League and the community programs we support.
What Can I Bring? includes a variety of tasty recipes with a Northern Virginia flare. American Best Recipes showcases the very best recipes from outstanding community cookbooks from across the country. Our book contains many American Best Recipes including award winning Holiday Irish Coffee Eggnog, Cinnamon Raisin Bread Pudding, Creamy Tomato-Sausage Sauce with Shells, and Papaya Salad. One recipe in particular, the Black Russian Cake, even grabbed the attention of former premier White House Pastry Chef Roland Mesnier. After tasting the Black Russian Cake and discovering the secret ingredients, Mesnier exclaimed, "The Junior League of Northern Virginia's Black Russian Cake is so you, you can almost serve it on the rocks!"
Our cookbook serves not only as a vehicle to delight cooks but as a means to educate the public about the JLNV's community involvement, development of women leaders and fundraising for future JLNV programs. What Can I Bring? has raised more than $150,000 for community initiatives and programs supporting the JLNV mission.
We are also excited to announce that in 2016 the JLNV will debut its new cookbook. Check back later for more details.