Monte Carlo – Art for a Cause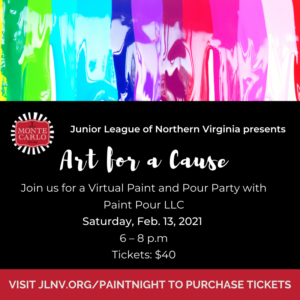 Monte Carlo – Art for a Cause
Join us for a two-hour Virtual Social on Feb. 13, 6-8 p.m.
Create your own Paint and Pour vase or rectangular cutting board.
Tickets are $40 and can be purchased here.
The cost of the ticket includes:
Apron
Gloves
Test Tile
Cups for Mixing Paint
Stir Sticks
5 Paint Colors of Your Choice
Pouring Medium
Holding Mechanism
Napkins
Instruction on 5 Different Pouring Techniques
Handout with different material options for sealing your cutting board
The evening will include Valentine-themed games and contests, and raffles.
Brought to us by Paint Pour LLC of Leesburg.

You can also support JLNV and our community programming through our raffle contests:
Non-Premium Raffle:

Wine and Roses Basket
($150 value)
Includes two dozen roses and three bottles of wine:

Whispering Angel Rose (94 points)
Barboursville Rose (90 points)
LaMarca Prosecco (92 points)

Premium Raffle:

MIRROR Home Fitness
($1,495 value)

The nearly invisible home gym that transforms less than two feet of wall space into a cardio class, a yoga studio, a boxing ring, and so much more.