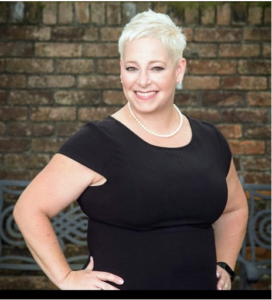 Community Members and Friends,
Welcome to the Junior League of Northern Virginia's website, and thank you for your interest in learning more about our organization! I'm thrilled to share with each of you the latest on our members, our programs and events, each of which impact our community. This year we have welcomed 51 new members, awarded $10,000 in community grants to Arcadia Farm, JK Community Farm, Bridges to Independence, ALIVE!, and KEEN, Inc. as well as contributed 772 volunteer hours to 15 community partners.
Since our founding in 1958, the members of the Junior League of Northern Virginia (JLNV) have been developing and encouraging women to lead. We have awarded over $2 million to the community, hundreds of thousands of volunteer hours, and implemented more than 35 community programs. The women who came before us knew what we know so well now: when women are at the table and in leadership roles entire communities can be transformed. I look forward to continuing in this tradition and expanding it further.
As we strive to return to the days of pre-pandemic, we have our work cut out for us, but our membership has continuously been able to tackle and conquer any obstacle put in its way. This league year we wrap up our "Preparing children for success by addressing childhood obesity through nutrition and physical activity education" focus area and begin to shift to partner with organizations focused on "Women Helping Women – enhancing access to essential services and professional development opportunities for women and families."
I encourage you to look through our website to learn more about the projects our League has invested in over the years, the perks of becoming a member and opportunities to support our efforts. If you are ready for an incredible volunteer experience, please consider joining us. We welcome the opportunity to partner with non-profit community partners and businesses. On behalf of the Board of Directors and the members of the Junior League of Northern Virginia, thank you for your interest in our organization.
I am grateful to serve as Junior League of Northern Virginia (JLNV) President as our organization celebrates its 65th year of service to the people of Northern Virginia. I am incredibly honored and humbled to be working alongside such a powerful group of women. May we continue to engage, empower, encourage, and educate one another.
Sincerely,

Parys L. Jolly
2021-2023 President