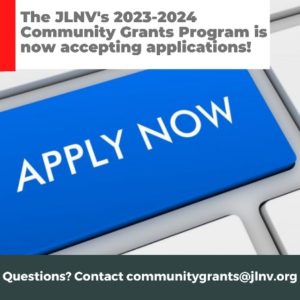 Throughout our 65-year history, the JLNV has been at the forefront of making community impact whether it was starting Reading is Fundamental in Alexandria in 1962, developing the Family Resource Center (FRC) at Shelter House in the 1990's or providing seed money for the Children's Science Center in the 2000's. Throughout the years, JLNV volunteers have been a driving force to improve our community. It is through our partnerships and ongoing engagements with impactful local organizations that we can make meaningful contributions and lasting impacts in the community.
The JLNV is implementing a new focus area in 2023-2024 entitled – Women Helping Women. The new focus area enhances access to essential services and professional development opportunities for women and families. The JLNV is excited to be moving into this focus area where we can make a lasting impact by promoting economic stability for women and families in Northern Virginia.
Beginning with the 2023-2024 community grant cycle, the JLNV invites interested organizations to submit a grant application that highlights an innovative program or project that supports the JLNV's focus area. Applicants will need to outline how allotted funds will be used and how the JLNV's volunteers will support their efforts.
Grant Application
Application process will be open through December 2. Click on the application here. Attend the Community Grant Information Session on October 26 at 12 p.m. to learn more and to ask questions.
The application, the first step in the partnership selection process, enables us to identify the type of partnership you seek; how it supports our focus area of enhancing access to essential services and professional development opportunities for women and families; how the JLNV's volunteers will be used; and the funds required to successfully run the program.
If you have any questions regarding the process, please contact the Community Grants Committee at communitygrants@jlnv.org or call the JLNV office at 703-442-4163.