Joining the Junior League of Northern Virginia (JLNV) as a New Member begins with becoming familiar with the League. Check out our frequently asked questions to learn more about the JLNV. Should you have additional questions about becoming a member, you can contact our Recruitment Lead at join@jlnv.org.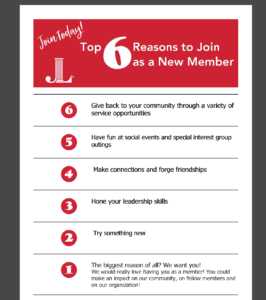 UPCOMING MEMBER RECRUITMENT EVENTS 
The JLNV hosts a variety of recruitment events across the Northern Virginia area. These events are optional, but provide an opportunity for prospective New Members to meet and socialize with current active JLNV members and get more information on the League. We encourage you to check out our events calendar to learn more about upcoming information sessions. Click here to be added to the list for upcoming recruiting events.
APPLY FOR MEMBERSHIP 
Thank you for your interest in the JLNV. To join click here.
You will receive further information on the New Member Training once you submit your application.
If you would like more information before submitting an application, please attend one of our recruitment events!
ELIGIBILITY
The JLNV is a dynamic group of women committed to promoting voluntarism, developing the potential of women, and improving the community through the effective action and leadership of trained volunteers. We encourage all women in the Northern Virginia area (including suburban Maryland and the District of Columbia) to join. Any woman is invited to join who meets the following requirements:
You must be at least 21 years of age.
You must currently reside in the Washington, D.C. Metro area.
You must submit an application and payment of dues for the New Member training course