International Find The Good Day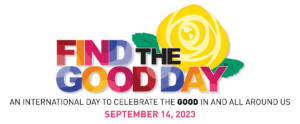 The Junior League of Northern Virginia is participating in Find the Good Day, a celebration of compassion, community, and positive change! Join us in embracing the spirit of kindness and empowerment as we commemorate this special occasion that echoes the core values of the Junior Leagues across the world.
The history of Junior Leagues dates back to the late 19th century when visionary women recognized the need for organized efforts to address pressing social issues. Inspired by a shared commitment to effect positive change, they established the first Junior League in New York City in 1901. Over the years, Junior Leagues have proliferated across the United States and beyond, becoming a transformative force for good.
At the heart of every Junior League lies a profound dedication to empowering women to become catalysts for change. Through training, mentorship, and hands-on experience, Junior League members evolve into confident leaders who drive meaningful transformations in their communities.
Find the Good Day is not just a date on the calendar; it's a movement that reflects the timeless spirit of Junior Leagues – a legacy of kindness, empowerment, and community transformation. Together, we aim to make a difference by embracing the power of unity and positive change.
As we commemorate this extraordinary occasion, we extend an open invitation to all passionate individuals who wish to be a part of this impactful movement. Whether you're an experienced advocate or a budding philanthropist, there's a place for you in the Junior Leagues.
Join hands with us on Find the Good Day, and let's create a legacy of compassion and positivity that will resonate for generations to come. Together, we can find the good in every day and make a real difference in the lives of others.
Celebrate Find the Good Day with us, and together, let's continue the inspiring journey that began over a century ago, leaving a legacy of compassion for generations to come.
Mosaic Farmers Market
Stop by the JLNV table to hear about the good that JLNV is doing in the community, find out about becoming a member, or get a copy of Flavors of Virginia: What Can I Bring Through the Seasons?
Sept. 10, 8:30 a.m.-2:30 p.m.
Recruitment Event at Mosaic Farmers Market
Sept. 10, 11:30 a.m.-2:30 p.m.
Mosaic Farmers Market, 2920 District Ave, Fairfax, Va.
Dine and Donate at Panera Mosaic District
Sept. 14, 4-8 p.m.
Recruitment Event at Panera
Sept. 14, 4-8 p.m.
Panera, 8191 Strawberry Lane, Fairfax, Va.
We will be collecting period supplies at this event.  Lack of period products is a hidden consequence of poverty.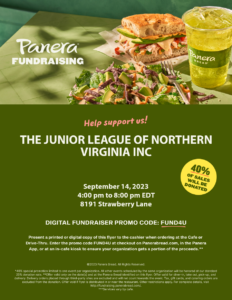 Kendra Scott Shop for Good with JLNV
Kendra Scott is an official partner of AJLI's inaugural Find the Good Day. Join us at either location anytime throughout the day or catch us at the shopping parties listed below. Kendra Scott will donate 20% of any purchases back to the League (just make sure to mention the JLNV). Prefer to shop online? Use code GIVEBACK-JLNOVA on Sept. 14-15.
Sept. 14, 4:30-6:30 p.m.
Kendra Scott, 8093U Tysons Corner Center, Tysons, Va.
Sept. 14, 5:30-7:30 p.m.
Kendra Scott, 2920 District Ave., Suite 125, Fairfax, Va.
Support the JLNV Find the Good Day Period Pantry Drive
Help make a difference! Did you know 1 in 4 women have struggled  to purchase period products in the past year due to lack of income?  Lack of period products is a hidden consequence of poverty. In the spirit of Find the Good Day — dedicated to finding good in ourselves, our community, and the world around us — support the effort to provide period pantries for local women in Northern Virginia.