JUNIOR LEAGUE OF NORTHERN VIRGINIA ANNOUNCES GRANT AVAILABILITY FOR LOCAL NONPROFITS WORKING TO ADDRESS ACCESS TO ESSENTIAL SERVICES AND PROFESSIONAL DEVELOPMENT OPPORTUNITIES FOR WOMEN AND FAMILIES
The Junio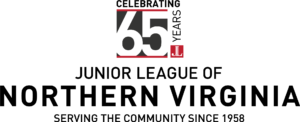 r League of Northern Virginia (JLNV) announced it is accepting applications for its 2023-24 Community Grants program. The grant cycle will focus on access to essential services and professional development opportunities for women and families as part of the League's continued commitment to improving the lives of women and families in Northern Virginia. The grants cycle will run now through December 2, 2022.
"Today, more than ever before, we understand that access to essential services and professional development opportunities for women and families are a critical component of success for the community as a whole," said Parys Jolly, president of JLNV. "By partnering with nonprofit organizations who are focused on creating more access to essential services and as well as supporting women's professional development opportunities, we can help ensure families in our area are getting the support that best meets their needs and creates opportunities for them to live a healthier, more productive life."
Interested organizations are invited to submit a grant application and attend an upcoming information session on Wednesday, October 26th at 12:00 p.m. For more information, please go to https://www.jlnv.org/community-grants or contact: communitygrants@jlnv.org.
Since 1958, our members have raised more than $2 million dollars to implement more than 35 community programs in Northern Virginia. Our members have provided hundreds of thousands volunteer hours in support of Northern Virginia nonprofits. We have engaged in various community initiatives, from combating homelessness and STEM education to healthy eating and active living initiatives for kids and families.
The Junior League of Northern Virginia strives to make a difference in the community by promoting the potential of women through voluntarism and leadership development. The organization's Board of Directors is comprised of dedicated volunteers who commit to serving the organization for a 12-month term. As a group, they are responsible for ensuring the League's adherence to the mission, vision, and strategic plan as outlined for the organization.
To learn more about the JLNV's community initiatives, please visit https://www.jlnv.org/.
###
Media contact: Christina Batcheler, pr@jlnv.org