Junior League of Northern Virginia's Sapphire Anniversary Giving Campaign Celebrates New Focus Area Women Helping Women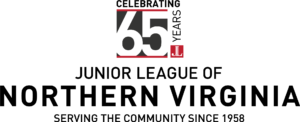 MCLEAN, VA (September 12, 2022) – The Junior League of Northern Virginia (JLNV) is celebrating 65 years of making a difference in the Northern Virginia and DC metro areas with a Sapphire Anniversary Giving Campaign, entitled Sapphires in Service: A tribute to the strength, power and service of the JLNV. The goal is to raise more than $16,500 by May 6, 2023, celebrating seven decades of service and launching a new focus area for next year, Women Helping Women.
JLNV is implementing a new focus area in 2023-24, entitled Women Helping Women which will strive to enhance access to essential services and professional development opportunities for women and families. Recent JLNV research indicates the following:
4% of families are living below the poverty line in Northern Virginia
28,000 Northern Virginia children live in poverty
Higher inflation rates puts more families at risk
Families headed by single women face challenges of food insecurity, housing instability, inadequate health care and mental health issues
Children of color are disproportionately impacted
"The JLNV is excited to be moving into this focus area where we can make a lasting impact by promoting economic stability for women and families in Northern Virginia," says Parys Jolly, 2022-2023 President. "Throughout the years, JLNV volunteers have been a driving force in improving lives. As we take on this new focus area, we have the opportunity to make a similar impact on the lives of women and children in Northern Virginia," she continued.
JLNV's kickoff project was a feminine hygiene product drive for Lorton Community Action Center (LCAC). More activities will be announced soon.
Since 1958, members have raised more than $2 million dollars implementing more than 35 community programs in Northern Virginia and DC metro area. Our members have provided hundreds of thousands volunteer hours in support of nonprofits and engaged in various community initiatives, from combating homelessness and STEM education to healthy eating and active living initiatives for kids and families. Some highlights included:
Starting Reading is Fundamental in Alexandria in 1962
Developing the Family Resource Center (FRC) at Shelter House in the 1990's
Providing seed money for the Children's Science Center in the 2000's.
JLNV strives to make a difference in the community by promoting the potential of women through voluntarism and leadership development. For more information, please visit: jlnv.org.