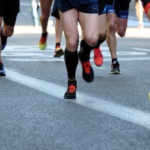 The Junior League of Northern Virginia is very excited to be hosting a virtual 5K from Jan. 15-18. Not only will you start the New Year off right by accomplishing fitness resolutions, but you will also be supporting your community!
This will be a virtual 5K. Choose a location for your 5K. You can run, jog, or walk on the road, on the trail, on the treadmill, at the gym, or on the track. You get to run your own race, at your own pace, and time it yourself.
The Physical Activity Committee is planning a virtual stretching activity on Jan.15 to kick off the race.
You can register here.