WANT TO SHOP OR COOK LOCAL THIS HOLIDAY? CONSIDER THESE SWEET AND WINTER FRESH RECIPES MADE BY NORTHERN VIRGINIANS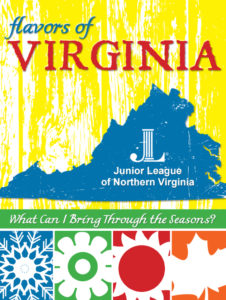 MCLEAN, VA (December 1, 2022) – Looking for a gift that's a bit off the radar? Want to feature local Virginia produce in your holiday dishes for your out of town guests? Consider cooking local this year with 27 Northern Virginia winter fresh recipes with help from the Junior League of Northern Virginia's popular cookbook, Flavors of Virginia: What Can I Bring Through the Seasons? The book features personal and family recipes submitted by League members and showcases local favorites and seasonal flavors. The cookbook also highlights the bounty of fresh foods grown in Northern Virginia and throughout the year.
Here is a sampling of the local recipes in the cookbook from Northern Virginians meant to wow the foodie in your family or circle of friends. The recipes inside the cookbook also make great hostess gifts and stocking stuffers. Recipes included in the cookbooks include: Spiced Holiday Pecans, Butternut Squash and Apple Soup, Beef Bourguignon, Southern Green Bean Casserole, Black Russian Cake and many more. To order or for more information, please go to: jlnv.org/cookbook.
"We are proud of the collection of fabulous recipes from our Northern Virginia members. The cookbooks have provided a collection of favorite recipes that have delighted novice to gourmet cooks for generations before and will continue to for generations to come," said Parys Jolly, president of the JLNV.
Since 1958, our members have raised more than $2 million dollars to implement more than 35 community programs in Northern Virginia. Our members have provided hundreds of thousands volunteer hours in support of Northern Virginia nonprofits. We have engaged in various community initiatives, from combating homelessness and STEM education to healthy eating and active living initiatives for kids and families.
The Junior League of Northern Virginia strives to make a difference in the community by promoting the potential of women through voluntarism and leadership development.
To learn more about the JLNV, please visit https://www.jlnv.org/.
###
Media contact: pr@jlnv.org