Promoting lifelong healthy eating habits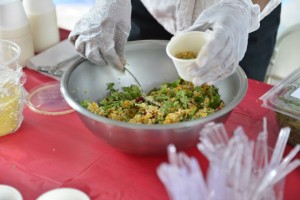 Childhood obesity has broad health consequences for children and families, and affects 1 in 5 children in Northern Virginia. The JLNV prepares children for success by addressing childhood obesity through the promotion of nutrition and physical activity education, which is proven to enrich health, well-being, and academic outcomes. JLNV is committed to reducing the number of impacted children by empowering families to make healthier choices.
The JLNV facilitates nutrition education initiatives through hands-on programs at local health centers and family homeless shelters, our Market Explorers program at local farmer's markets and Arcadia's Farm Camp. In addition to enhancing these programs and increasing the number of locations where they are offered, the JLNV will be expanding the existing curriculum to ensure it continues to meet the needs of the Northern Virginia community.