The Junior League Virginia Summit – Transformational Leadership: Inspire & Motivate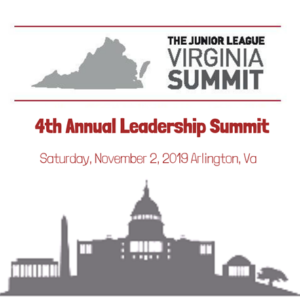 The Junior League of Northern Virginia (JLNV) will host The Junior League Virginia Summit. The Summit is in its fourth year bringing together members from Virginia Leagues and surrounding areas for enlightening and empowering discussions surrounding leadership. The theme this year is Transformational Leadership: Inspire and Motivate! Together, attendees will learn the skills and resources needed to become transformational leaders within the Junior League and our communities.
The Junior League Virginia Summit will be held on Saturday, November 2, 2019 from 8:00 a.m. to 5:00 p.m. at the Sheraton Pentagon City Hotel.
The cost is $65 and will include breakfast and a hot lunch.
Click here to register for the Summit! Registration closes October 30.
We are looking forward to a wonderful day of fellowship and dynamic speakers. During the Summit we will discuss the following topics:
Keynote Presentation: Elizabeth Bennett-Parker, Councilwoman and Vice Mayor of the City of Alexandria
Councilwoman Bennett-Parker will discuss her transformational leadership journey and how she used the leadership skills she gained as a business owner to become a successful elected leader.
The CEO in You: Developing Your Personal Strategic Vision
Transformational leadership requires a plan. Do you have a strategic vision for your life? Now is a perfect time to develop and/or evaluate your strategic vision and identify what actions will get you from where you are now to where you want to be in the future. Speaker: Tracy Prabhu, Junior League of Boston.
Member Engagement: From Recruitment to Retention
Shift your membership paradigm from a prescriptive to a member-centric engagement model. This session will outline strategies and tactics for successful member recruitment, retention and engagement across the full continuum of membership: New Members, Actives and Sustainers. Topics to be addressed include recruitment considerations and tactics, meaningful placement, and communication strategies. Attendees also will get an overview and demo of a platform available through AJLI that supports the member-centric engagement model. Speaker: Victoria Berg, AJLI.
Big Money: Maximizing Event-Based Fundraisers
Event-based fundraisers are a staple of most Junior Leagues. Looking to leverage new techniques to improve your fundraising events? Need ideas on how to use fundraising events as part of your overall fundraising strategy? This interactive session will help you identify best practices for producing an event-based fundraiser with a big impact. Using a tabletop exercise, you will leave with ideas to help your League make the most of its fundraising efforts. Speaker: Nadine Vargas Stewart, Junior League of Raleigh.
In This Together: Leading Across Generations
For the first time in history, five generations will soon be working side-by-side in the workplace and in volunteer organizations. As a leader, it's important to recognize the diverse skills each generation brings to the Junior League and how to leverage those skills. How do you create synergy between New Members and Actives, while also incorporating the skills and experience of Sustainers? By effectively leveraging the insights and experience of your newest to most seasoned members, you can create an inclusive League of trained volunteers and a diverse pipeline of future leaders.
Event location
Sheraton Pentagon City Hotel
900 South Orme Street
Arlington, VA 22204
Questions about the Summit can be directed to valeaguessummit@jlnv.org.
Nearby Hotels
The room block at the Sheraton Pentagon City Hotel is sold out, but rooms are available at the following nearby hotels.
Courtyard Arlington Crystal City
2899 Richmond Hwy.
Arlington, VA 22202
703-549-3434
Residence Inn Capital View
2850 S. Potomac Ave.
Arlington, VA 22202
703-415-1300
Weston Crystal City
1800 Richmond Hwy.
Arlington, VA 22202
703-486-1111
Residence Inn Arlington Pentagon City
550 Army Navy Dr.
Arlington, VA 22202
703-413-6630