The Junior League of Northern Virginia
Cordially Invites You…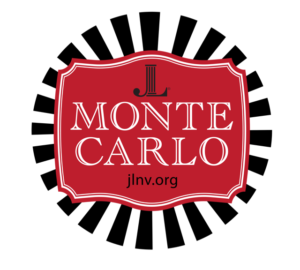 Friday, March 9, 2018
8 p.m. – Midnight
Army Navy Country Club of Arlington
1700 Army Navy Drive, Arlington, Virginia 22202
Try your luck at games of chance, take a spin on the dance floor, enter for a chance to win a wine raffle and visit our exclusive silent auction featuring jewelry, shopping excursions, and vacation getaways at the Junior League of Northern Virginia's Monte Carlo Night!
Indulge in signature cocktails, wine, beer and hors d'oeuvres at the award-winning Army Navy Country Club in Arlington. Come decked out in your finest cocktail attire.
All proceeds support the League's ongoing efforts to improve the Northern Virginia community through the effective action and leadership of trained volunteers and educational programming.
Tickets sales begin October 1, 2017, and will end February 28, 2018. Please note tickets will not be sold the day of the event, so purchase your tickets today!
1 Ticket = $150
2 Tickets = $275
4 Tickets = $525
The more you buy, the more you save!
Join the High Roller Club! This ticket package includes:
Two (2) tickets to Monte Carlo Night
Preview list of auction items prior to the event
VIP checkout
Monte Carlo Night Souvenir
Donation acknowledgement online and in print
Join the High Roller Club here!
Thank you to our 2018 Donors
AR Workshop ▪ Barcelona ▪ Barrel Oak Winery ▪ Barstons Child Play ▪ Bitar Plastic Surgery ▪ Blue Ridge Grill ▪ Bluemont Vineyard ▪ Board and Brush Fairfax ▪ Cera Wax Studio ▪ Chain Bridge Cellars ▪ Cupcaked Bakery ▪ Dirt Farm Brewing ▪ District Taco ▪ Escape Room Live ▪ Flag Flown over Capitol ▪ Geller Law Group ▪ Go Ape ▪ Gold Cup ▪ Gold's Gym ▪ Goldfish Swim School ▪ Great Country Farms ▪ The Hilton ▪ Jerry's Occoquan Jewelry ▪ Jos A. Magnus Distillery ▪ JW Tumbles ▪ Kearney & Company ▪ Kendra Scott ▪ Lather ▪ Lauren Louise Photography ▪ Liberty Mountain Resort ▪ Luray Caverns ▪ Main Street Landscape ▪ Mon Ami Gabi ▪ Nationals ▪ Newseum ▪ Orange Theory ▪ Organic Butcher of McLean ▪ Paper Source ▪ PR Barbers ▪ Preakness ▪ Rays the Steaks ▪ Salon Nordine ▪ Salon Sage ▪ Solidcore ▪ Tea with Mrs. B ▪Vineyard Vines ▪ Wear Ever Jewelry ▪ Xtend Barre ▪ Yeti
Dave & Patty Miller
Kate Thomas
High Roller Club
Jennifer Bell
Anne Chow
Meg Keiley-Listermann
Tara McCook
Meghan Primrose
Katherine Werther
Junior League of Northern Virginia prides itself on working with a variety of local and national businesses, organizations and individuals in supporting our mission to develop a community of women leaders dedicated to building better communities and healthier families. To learn more about how you or your organization can get involved with sponsoring Monte Carlo Night or opportunities to partner with the Junior League of Northern Virginia, please click the link below.
A big JLNV thank you to our outstanding sponsors.  Please take time to support them all.
Questions? Please contact MonteCarloNight@jlnv.org.
Follow us on social media to stay in the know about Monte Carlo Night! For media requests, please contact communications@jlnv.org