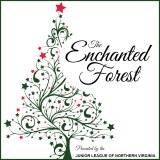 Join us November 18-19 for the 17th annual The Enchanted Forest, a magical weekend-long holiday festival presented by the Junior League of Northern Virginia (JLNV) at The Westin Tysons Corner! Stroll through the whimsical forest of theme decorated trees available for silent auction, while enjoying live entertainment, Kids in the Kitchen holiday activities, a visit from Santa, a model train display by Capital Trackers, kids' crafts, gifts for purchase, premium events for adults and kids, and much more.
Proceeds benefit the JLNV's community initiatives through the Kids in the Kitchen programming. By supporting The Enchanted Forest, you are helping the JLNV empower families to make healthy eating and active living a priority, and supporting the development of women who will build better communities for years to come.
General admission tickets are $10 for adults and $15 for kids and are good for the entire weekend. Children under age 2 are free. General admission tickets include access to the forest and the silent auction, Santa, Kids in the Holiday Kitchen activities, and live entertainment. Tickets will be available for purchase soon.
We're pleased to announce that we will once again have a mobile bidding option, so you can preview many of the trees before arriving and continue to bid on your favorite trees throughout the weekend without having to be present.
Additional information about The Enchanted Forest's premium events, schedule of entertainers, holiday market vendors, evening cocktail reception, sponsorship opportunities and more will be posted on the JLNV website in the coming weeks.
Follow us on social media to see pictures and stay in the know about The Enchanted Forest! We look forward to seeing you at this year's event.



@JLNV     #TEF2017