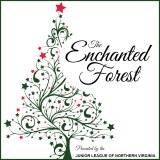 Thank you for supporting the Junior League of Northern Virginia and helping make the 2017 The Enchanted Forest a success! We look forward to seeing you next year when The Enchanted Forest returns in November 2018!
We'd like to give a BIG thank you to our 2017 TEF corporate and individual sponsors:
Corporate Sponsors
Allison Tepper Nutrition Consulting ▪ American Girl ▪ Blair Inc. ▪ Body Mass Gym ▪ Briar Patch B&B ▪ Cana Vineyards and Winery of Middleburg ▪ Cape Ann Harbor Tours ▪ Cape Ann Museum ▪ Capital MMA & Elite Fitness ▪ Capt Bill & Sons Whale Watch ▪ Chef Aakash Trivedi ▪ Children's Science Center ▪ Chrysalis Vineyards ▪ Club Pilates ▪ College Nannies & Tutors ▪ Corepower Yoga Clarendon ▪ Creek's Edge Winery ▪ David Saxe Productions ▪ DC Lash Bar ▪ DC Metro Food Tours ▪ Disney World ▪ Dover Downs ▪ Earl's Cafe & Bar ▪ Encore Stage & Studio ▪ Entertainment Cruises ▪ Fran's Cake and Candy Supplies ▪ Galleria Florist ▪ George Washington's Mount Vernon ▪ Gloucester Stage ▪ Han Fine Properties ▪ India Hicks Independent Ambassador Amy Kardell▪ jetBlue ▪ Liberty Mountain Resort ▪ Maritime Gloucester ▪ Maryland Science Center ▪ Merrifield Garden Center ▪ Modern Market ▪ Monika's Cupcakes ▪ Moss Building & Design ▪ Nails By Lydie ▪ Next Phase Studio ▪ Olive Oil Boom ▪ One More Page Books ▪ Painting with a Twist ▪ Paradise Springs Winery ▪ Patrick the Chef ▪ Possibilities Publishing ▪ Quattro Goombas▪ Raspberry Falls Golf & Hunt Club ▪ Red Barn Mercantile ▪ Red Key at Keller Williams ▪ Red Velvet Cupcakery ▪ Reston Limousine ▪ Rocky Neck ▪ Rubini Jewelers ▪ Saucey Socks ▪ Sprinkles Cupcakes ▪ Spy Museum ▪ Stone Tower Winery ▪ The Barns at Hamilton Station ▪ The Gellar Law Group▪ The Grooming Lounge ▪ The Irish Walk▪ The Ritz-Carlton, Tysons Corner ▪ The Wine Reserve at Waterford ▪ Tiny Dancers ▪ Total Wine & More ▪ Tours for Humanity ▪ True Food Kitchen ▪ Trump National Golf Club ▪ Urban Stems ▪ Washington Nationals ▪ WineShop at Home ▪ Wintergreen Resort
Friends of the Forest
Sharon Ballard
Jennifer Bell
Kelly Cruz
Bea Duque Long
Gabrielle Durand
Martha Hess
Opa Johnson
Krysta Jones
Meg Keiley-Listermann
Shashauna Littlejohn
Erica McCants
Meghan Primrose
Amanda Richardson
Katherine Segersten
Lori Ann Terjesen
Katherine Werther
Jennifer Williston
JLNV Board
Media Information:
Follow us on social media to see pictures and stay in the know about The Enchanted Forest! For media requests please email communications@jlnv.org.
FROM ALL OF US AT THE JLNV TO ALL OF YOU – HAPPY HOLIDAYS! 



@JLNV     #TEF2017