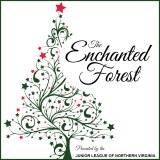 The Junior League of Northern Virginia's 17th Annual The Enchanted Forest will take place November 18-19, 2017, at the Westin Tysons Corner. The event will feature live entertainment, Kids in the Kitchen holiday activities, visits from Santa, a model train display, kids' crafts, gifts for purchase, premium events for adults and kids, and a silent auction of more than 80 lavishly decorated themed trees and wreaths.
The Enchanted Forest is your first opportunity to take photos with Santa, get a head start on your holiday shopping, and kick off your holiday season.
Proceeds benefit the JLNV's community initiatives, including our Kids in the Kitchen programming. By supporting The Enchanted Forest you are helping the JLNV empower families to make healthy eating and active living a priority, and supporting the development of women who will build better communities for years to come.
Tickets:
General admission tickets are $10 for adults and $15 for children. Admission will be good for the entire weekend. Children under age 2 are free.  Children's tickets include two children's crafts. Individual premium event tickets include general admission.
Click here to purchase general admission tickets before the event.
Please see our schedule of events for general admission hours, entertainment schedule and premium event times.
SANTA!!! Photos, Stories and More (included in admission-all ages)
A professional photographer will be available in the forest for those wishing to take photos with Santa and get a head start on their holiday cards. Santa will also be sharing some tales of life in the North Pole and other exciting adventures. See Schedule of Events for times.
Holiday Treats with Kids in the Kitchen (included in admission-all ages)
Learn about our Kids in the Kitchen program through our Kids in the Holiday Kitchen exhibit. Children will learn how to make a healthy, holiday themed snack, learn about making balanced food choices and much more.  
Silent Auction via HandBid (included in admission)
Wander through an enchanted forest of theme-decorated trees and wreaths available for silent auction. This is a great opportunity to start your holiday shopping or treat yourself to something special. Ensure you win your favorite tree by receiving updates when new bids are placed or by utilizing the "buy it now" option through HandBid. Volunteers will be available to assist attendees in using HandBid.
Breakfast with Santa (premium-all ages)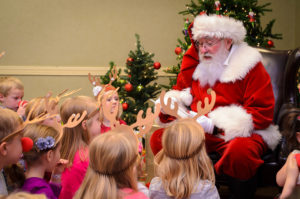 Jump start your holiday season with an exclusive breakfast with Santa! Feast on a scrumptious buffet of  breakfast treats in an intimate setting, while hearing Santa tell some amazing tales about the North Pole. A professional photographer will capture photos with Santa for kids and the young at heart.
Click here to purchase Breakfast with Santa tickets. 
Reindeer Games with Santa (premium-all ages)
Ever wonder how Santa and his elves entertain themselves on the North Pole? With Reindeer Games, of course! Join Santa for one of his favorite Reindeer Games (Santa BINGO!), while enjoying delicious treats and milk.
Click here to purchase Reindeer Games with Santa tickets. 
Sugarplum Tea Party (premium-all ages)
Join ballerinas from the Adagio Ballet School of Dance for a Sugarplum Tea Party complete with a dance lesson, apple juice "tea" and cupcakes, a princess themed craft, and a photo with the ballerinas. Includes a General Admission ticket.
Click here to purchase Sugarplum Tea Party tickets.
Gingerbread House Decorating (premium-all ages)
Calling all Hansels and Gretels! Decorate your own edible gingerbread house with royal icing and an assortment of candy at one of the Gingerbread Workshops. Your completed house, covered in candy trimmings, will be yours to take home that day.
Click here to purchase Gingerbread House Decorating tickets. 
Live Entertainment (included in admission- all ages)
A variety of live entertainment will take place in the enchanted forest throughout the weekend, including The Great Zucchini, Ukulele Phil and the Hula Kids, Pirate Magic, Groovy Nate, and the Maple Irish Dance Academy.  The National Capital Trackers model train display is also back by popular demand and will run throughout the weekend. Attendees can also join in some North Pole Exercise sessions led by volunteers from the JLNV's Physical Activity Committee. See our Schedule of Events for more details.
Merry & Bright BASH!  (premium-21 and over only)
Kick off the holiday party season in our Enchanted Forest. Our Merry & Bright BASH includes an open bar, hors d'oeuvres, dancing, games of chance, and a raffle. Dress code is cocktail attire or your holiday best.
Click here to purchase Merry & Bright BASH tickets.
Holiday Market Vendors:
Dazzling All Day
Journey to Constellation Station by Lindsay Barry
Sponsorship Information:
We pride ourselves on working with a variety of local and national businesses, organizations and individuals in supporting our mission to develop a community of women leaders dedicated to building better communities and healthier families. To learn more about how you or your organization can get involved with sponsoring items for our enchanted forest or raffle or opportunities to partner with the Junior League of Northern Virginia, contact Taylor Bezerra at teftrees@jlnv.org. We look forward to working with you!
We'd like to give a BIG thank you to our current list of corporate and individual sponsors:
Corporate Sponsors
Allison Tepper Nutrition Consulting ▪ American Girl ▪ Blair Inc. ▪ Body Mass Gym ▪ Briar Patch B&B ▪ Cana Vineyards and Winery of Middleburg ▪ Cape Ann Harbor Tours ▪ Cape Ann Museum ▪ Capital MMA & Elite Fitness ▪ Capt Bill & Sons Whale Watch ▪ Chef Aakash Trivedi ▪ Children's Science Center ▪ Chrysalis Vineyards ▪ Club Pilates ▪ College Nannies & Tutors ▪ Corepower Yoga Clarendon ▪ Creek's Edge Winery ▪ David Saxe Productions ▪ DC Lash Bar ▪ DC Metro Food Tours ▪ Disney World ▪ Dover Downs ▪ Earl's Cafe & Bar ▪ Encore Stage & Studio ▪ Entertainment Cruises ▪ Fran's Cake and Candy Supplies ▪ Galleria Florist ▪ George Washington's Mount Vernon ▪ Gloucester Stage ▪ Han Fine Properties ▪ India Hicks Independent Ambassador Amy Kardell▪ jetBlue ▪ Liberty Mountain Resort ▪ Maritime Gloucester ▪ Maryland Science Center ▪ Merrifield Garden Center ▪ Modern Market ▪ Monika's Cupcakes ▪ Moss Building & Design ▪ Nails By Lydie ▪ Next Phase Studio ▪ Olive Oil Boom ▪ One More Page Books ▪ Painting with a Twist ▪ Paradise Springs Winery ▪ Patrick the Chef ▪ Possibilities Publishing ▪ Quattro Goombas▪ Raspberry Falls Golf & Hunt Club ▪ Red Barn Mercantile ▪ Red Key at Keller Williams ▪ Red Velvet Cupcakery ▪ Reston Limousine ▪ Rocky Neck ▪ Rubini Jewelers ▪ Saucey Socks ▪ Sprinkles Cupcakes ▪ Spy Museum ▪ Stone Tower Winery ▪ The Barns at Hamilton Station ▪ The Gellar Law Group▪ The Grooming Lounge ▪ The Irish Walk▪ The Ritz-Carlton, Tysons Corner ▪ The Wine Reserve at Waterford ▪ Tiny Dancers ▪ Total Wine & More ▪ Tours for Humanity ▪ True Food Kitchen ▪ Trump National Golf Club ▪ Urban Stems ▪ Washington Nationals ▪ WineShop at Home ▪ Wintergreen Resort
Friends of the Forest
Sharon Ballard
Jennifer Bell
Kelly Cruz
Bea Duque Long
Gabrielle Durand
Martha Hess
Opa Johnson
Krysta Jones
Meg Keiley-Listermann
Shashauna Littlejohn
Erica McCants
Meghan Primrose
Amanda Richardson
Katherine Segersten
Lori Ann Terjesen
Katherine Werther
Jennifer Williston
JLNV Board
Media Information:
Follow us on social media to see pictures and stay in the know about The Enchanted Forest! For media requests please email communications@jlnv.org.
FROM ALL OF US AT THE JLNV TO ALL OF YOU – HAPPY HOLIDAYS! 



@JLNV     #TEF2017